WELCOME
Since 1990 Tech-Wall has offered quality installations of Fabricmate Systems, tackboards, acoustical treatments and markerboards, as well as many other interior specialties.
Specializing in "Stretched-Fabric" Wall Systems, our experienced team of installers, estimators and project managers are ready to help make your project a success.
Stretched-Fabric Wall Systems such as Fabricmate have developed into the most functional and cost-effective product for tackable and acoustical applications.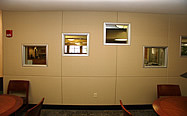 4. Vinyl-Wrapped Tackboards
From leading manufacturers
Fabric-wrapped Panels, Diffusers, Baffles, soundproofing and sound-deadening
Manual and electric Draper projection screens
Markerboards, pre-made tackboards and display cases
FRP, corner guards, display rails and more
Maximizing use of materials, being made from recycled materials and offering huge savings in maintenance costs are just a few of the reasons Tech-Wall promotes and educates clients on the advantages of using Stretched-Fabric Wall Systems. The system has both ½ inch and 1 inch track, and panels can be furred to achieve any thickness desired. Panels 5 ½ feet wide by 100 feet long are common. Project sizes can range from 1K to 750K.
Tech-Wall also installs markerboards, pre-made tackboards and display cases.
Tech-Wall is an authorized installer for both manual and motorized Draper Projection Screens. Please call or email for pricing or more info.
2. Pre-made Acoustical Wall Panels
Tech-Wall offers supply and installation of pre-made acoustical wall panels from a variety of manufacturers such as Wall Technology, Lamvin or others. We also install baffles, diffusers, absorbers, soundproofing and sound-deadening products.
Tech-Wall also installs Vinyl-Wrapped panels from manufacturers such as Chatsfield-Clarke and Claridge. For pricing or more information please email or give us a call.
We also install a variety of interior finishes including FRP, corner guards and display rails. If you don't see your product of interest listed, please give us a call and we would be happy to quote you an installation price.
For new construction, "fast-track" modernizations and/or "working" office environments, Tech-Wall has the ability to transform any space into the desired look with the quality product of your choice. Our established history of workmanship has been proven in hundreds of commercial, educational and residential applications.
Whatever your needs---tackable walls, acoustic treatments, aesthetics, noise reduction, clearer speech or useable walls---we have the products, staff and support to help fit your budget.